Cupcakes have become quite the craze. People love them because they're delicious and fun. Plus, you don't have to buy a whole cake to enjoy these sumptuous sweets. You can have as many different flavors as you want in one go. Like anyone with a sweet tooth though, there comes a time when you're no longer content with just buying cupcakes from your neighborhood bakeshop. You want to make your own mouthwatering creations. So you think about cupcake classes. But do you really need one?
Starting with the Basic Cake
If you've been baking almost all your life, you should know that all you need to come up with the perfect cupcake is a dependable cake batter, and the rest is up to your creativity. There are three most popular cupcake bases that anyone who wants to start making them should learn about.
The basic Yellow Cake is the quintessential cake for birthdays, weddings and so many other celebrations because it is versatile enough for any type of icing, topping, and can even be tinted to match a color theme.
Who doesn't love a Moist Chocolate Cake? Surely, you have an heirloom recipe from your grandmother of this decadent cake that will never fail to make mouths water. Topped with buttercream icing or a decadent cream cheese frosting, no individual will dare to resist such a treat.
The Red Velvet Cake has risen to great popularity in recent years. There have been debates on how exactly it came about, some referring to a chemical reaction between cocoa powder and vinegar for its distinctive color. Today though, most bakers just use gel food color to achieve this deep red hue. And of course, the classic choice of topping is a cream cheese frosting.
Cupcake Classes on Decorating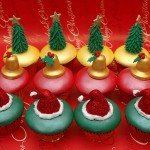 If there is a baking class you need to enroll in to further your cupcake making interests, it should probably be on decorating. There are certain techniques that you need to know in order to create those intricate designs.
For instance, piping tips are some of the most important things to consider first when developing your designs. Piping tips come in different shapes and size and you need to have the right one that will suit your needs. There are also tricks you can learn on how to pipe icing to get your desired design and a hands-on class should be just the perfect way to learn them.
The type of icing to use is also another consideration; the basic types of icing being buttercream, royal icing, and fondant. If you wish to come up with the really complex designs you'll probably need to know how to handle fondant. Apart from these three, there are also other elements you need to tie up the whole look of your cupcake such as sprinkles, colored sugar crystals, and the like.
Once you've learned the basics, you can move on to making cupcakes for every celebration and every season. Fill up a dessert buffet with all sorts of cupcake designs, or gift your friends on Christmas with specially designed Christmas-themed cupcake. Once you've perfected this art after a few cupcake classes, you'll be well on your way to being the next cupcake girl on TV.